Canadian overall priorities align with the scientific questions and societal applications articulated at the international level (see BGC-Argo Science Plan), including support for the core variables to be measured and the mission configuration outlined for the global program.
Areas of preferential deployment include, but are not limited to, the North Atlantic Ocean, the North Pacific Ocean and the Arctic Seas.
In addition to supporting the program's core mission, Canadian priorities include further development of float and sensor technologies including, for example, the enhancement of float capabilities to measure properties under ice in polar regions, sensor development, and an emphasis on training the next generation of scientists, developers and users.
Canadian activities in support of global Biogeochemical Argo are supported through various mechanisms:
Current projects and initiatives include:
Green Edge focuses on documenting and understanding the unprecedented and rapid changes currently occurring in the Arctic Ocean. Green Edge www.greenedgeproject.info
VITALS (Ventilation, Interactions and Transports Across the Labrador Sea) is a research network focused on the deep ocean exchanges of carbon dioxide, oxygen, and heat with the atmosphere in the Labrador Sea.
Long-term commitments: DFO (Department of Fisheries and Oceans Canada) is a strong contributor to the Argo program and has already supported biogeochemical Argo measurements, e.g. oxygen, for a number of years.

Pending projects and initiatives include:

The Ocean Frontier Institute (OFI) aims to advance safe and sustainable ocean development with a geographic focus on the Northwest Atlantic. Funds for deployments of BGC-Argo floats will be sought in support of investigations into shifting ecosystems and carbon auditing.
Argonauts Canada (NSERC CREATE) – a program to train the next generation of highly qualified personnel in cutting-edge ocean observing technology and applications that address fundamental scientific questions about our changing oceans. This program will complement and integrate with the European Argonauts training program and other emerging international training opportunities.
Name:

Katja Fennel

Affiliation:

Department of Oceanography, Dalhousie University

Country:

Canada

Email:

katja.fennel at dal.ca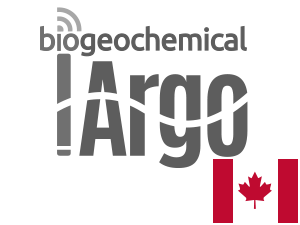 Relevant Report